NSW Government's Seafood Innovation Fund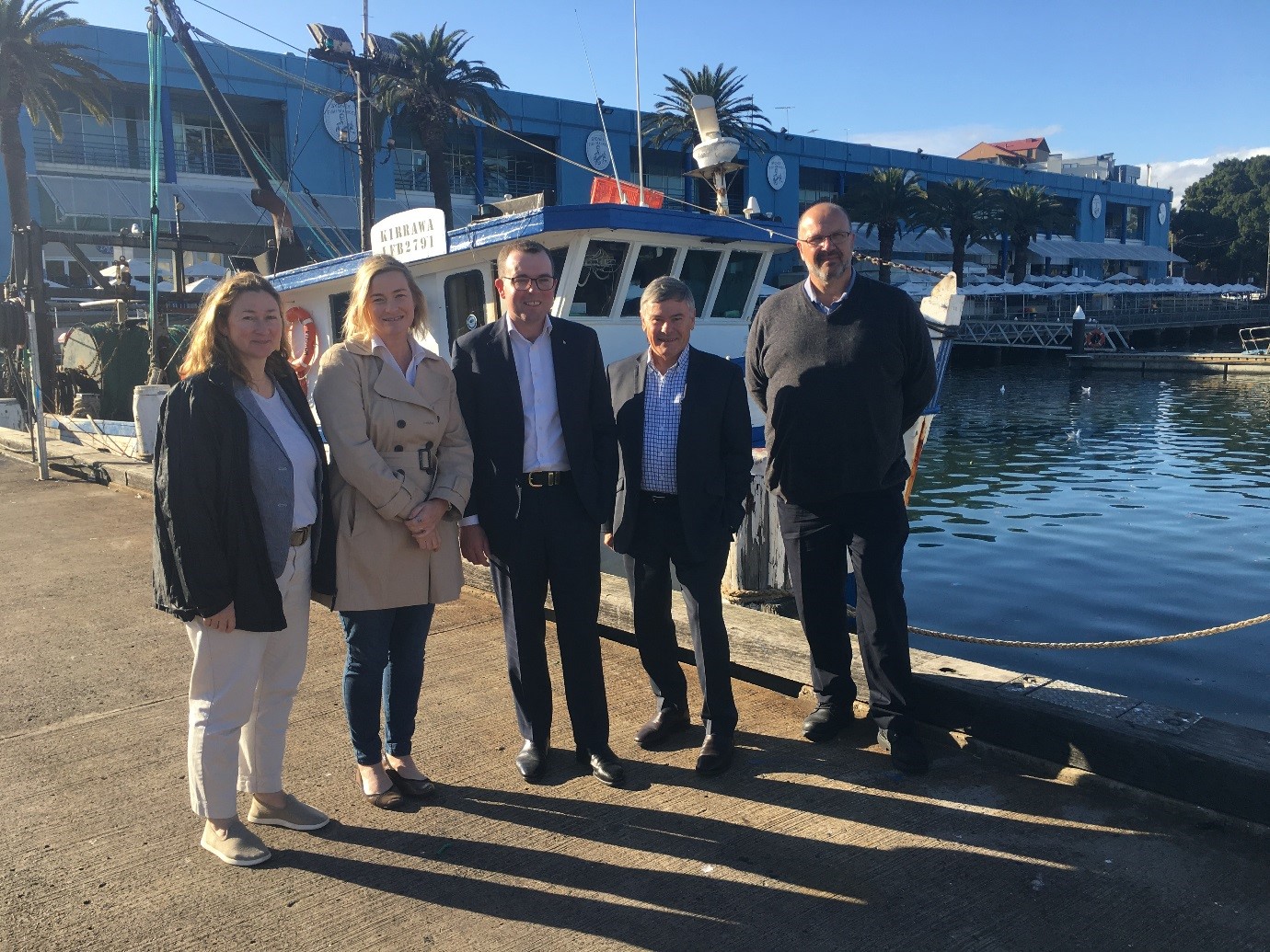 L-R: Lowri Pryce, OceanWatch Australia; Tricia Beatty, Professional Fishermen's Association; The Hon. Adam Marshall, MP; Bryan Skepper, Sydney Fish Market; Rob Gauta, Commercial Fishermen's Co-Op.

On Wednesday 20 June, SFM welcomed a visit from the Minister for Agriculture, The Hon. Adam Marshall, who announced the establishment of the NSW Government's Seafood Innovation Fund. Fishers and aquaculture farmers across the State will now be able to access low-interest loans to purchase modern equipment and make business improvements.
"The Seafood Innovation Fund is an investment in the future of our seafood industry which already employs more than 4,000 people and generates about half a billion dollars in economic activity each year," Mr Marshall said.
"This Fund will allow business owners to access low-interest loans of up to $500,000 to invest in modern technology, equipment and systems to improve the productivity and profitability of their business.
"We know the availability of affordable capital can be a real barrier for business owners looking to purchase new equipment and that's why we're ensuring more people can access the finance they need to improve their operations."
Applications can be made through the NSW Rural Assistance Authority at www.raa.nsw.gov.au

SFM Becomes a Sustainability Advantage Bronze Partner

SFM has been awarded Bronze Partner status in the NSW Office of Environment and Heritage's Sustainability Advantage Program after joining the program on a voluntary basis 12 months ago. The Sustainability Advantage Recognition Scheme is open to all businesses based in NSW and acknowledges organisations who have committed to achieving real environmental improvements.
The initial phase of the program looked at mapping the strengths and weaknesses of SFM's environmental practices to identify areas with opportunity for improvement. It was identified that SFM could do more in the area of sustainable procurement and waste management on the site. It was also acknowledged that SFM should be doing more to address the issue of plastic pollution by eliminating single use plastic and implementing green alternatives. As a result, SFM commissioned a project to develop a business case for the elimination of tenant plastic packaging and the potential for creating an organic compostable waste stream that could divert food waste from landfill.
The Bronze Partnership was formally announced at a gala event held at Sydney Opera House on 26 June 2019. SFM's goal is to continue to improve our environmental practices and strive to achieve Silver Partner recognition in the future. For more information on the Sustainability Advantage Program click HERE.

Seafood Excellence Awards Sponsorship Opportunities

The Sydney Fish Market Seafood Excellence Awards recognise and reward the seafood industry's top achievers across 14 key categories. Held biennially since 1996, the Sydney Fish Market Seafood Excellence Awards showcase the Australian seafood industry, its value to the national economy, its professionalism, and its commitment to supplying some of the finest seafood in the world to local, national and international markets.
The 2019 Sydney Fish Market Seafood Excellence Awards will be held at the Australian National Maritime Museum in Sydney, on Thursday 25 July. This exclusive, invitation only evening is the premier seafood event in New South Wales, welcoming the industry's top players,including commercial fishers and aquaculturists, retailers, exporters, wholesalers, restaurateurs as well as key government and environmental agencies, media, and gastronomes.
Sponsors are an integral part of the Sydney Fish Market Seafood Excellence Awards and we are delighted that the following organisations have come on board to support the event:
Guests will also be treated to a seafood feast including a menu featuring local product generously sponsored by Australia's Oyster Coast, New Zealand King Salmon, Clean Seas and Fishtales.
A few sponsorship opportunities remain. You can play a key role in this event by becoming involved, supporting your industry and in turn benefitting from the outstanding promotional and commercial opportunities presented to your organisation. The sponsorship prospectus is available HERE.
Please contact Stephanie Margrain, Marketing & Communications Manager on email stephaniem@sydneyfishmarket.com.au or phone +61 2 9004 1110 to discuss.

Seafood Directions 2019


Every two years the Australian seafood industry gathers for Seafood Directions. This year, hosted by Seafood Industry Victoria, Seafood Directions will feature three days of events and activities from October 9 - 11 at the Melbourne Convention and Exhibition Centre (MCEC).
The vision for Seafood Directions in 2019 is to create a unified community that values and celebrates Australian seafood. The conference showcases the best of the Australian seafood industry and opens the door to disruption, conceptual thinking, discussion and solutions for all levels of the seafood supply chain. Delegates will learn from global trailblazers who are embracing change and moving the seafood industry forward and hear from experts covering everything from sustainability research, financial support, storage innovations, technology developments and more. This year's program also offers the opportunity to dine in some of Melbourne's best seafood restaurants.
For more information and to purchase tickets please visit https://www.sd2019.com.au/

NSWSIC Seafood Directions Bursary
The NSW Seafood Industry Council (NSWSIC) is funding bursaries for those affiliated with the NSW seafood industry to attend the Seafood Directions 2019. The purpose of the bursaries is to provide financial assistance to those within the NSW seafood industry who will utilise the knowledge gained from attending the conference to make a difference in their sector or the seafood industry as a whole.
Ten x $1,750 bursaries are available to contribute to the registration and travel costs associated with attending the 2019 Conference in Melbourne. The bursary covers conference ticket, flights and accommodation up to $1,750. Receipts must be provided for all claims.
Please complete the nomination form and return via email by COB Monday 29 July, 2019. Download the submission form by clicking the button below. Please send completed submission forms to admin@pfai.com.au

State of Mental Health in the Seafood Industry
Seafood Industry Australia and Women in Seafood Australasia have been leading a campaign to help address a key area of concern for the seafood industry by raising awareness and securing funding for mental health support for our fishers. According to research led by Dr Tanya King, Maritime Anthropologist, Deakin University, Australia's commercial fishers are suffering from twice the level of psychological stress than any other sector.
Dr Tanya King studied the high rate of mental health problems among Australia's fishers and found chronic job insecurity has led to high rates of suicide among fishers. The research showed levels of "high" and "very high" psychological distress among fishers, which are almost double those reported by the general public. Industry workers feel their work is "culturally undervalued" or misunderstood. With almost a third of industry dissuaded from addressing their physical and mental health problems because they feel their GP doesn't understand the pressures of the fishing industry.
Significant contributing factors to these mental health problems are ongoing attacks against the industry's well-managed fisheries and the continued threat to resource access. Despite facing similar mental health issues to other agricultural sectors, fishers across mainland Australia do not currently have access to a formal support network that can connect them with existing services and programs to improve their wellbeing.
The Tasmanian Seafood Industry Council (TSIC) has launched project Stay Afloat, providing fisher-friendly mental health support network. SFM would like to see this kind of model extended to all states and territories. Like land-based farmers, fishers are a proud and stoic bunch who can struggle to admit when they may need to reach out for help. As an industry we need people who are trained to look out for warning signs and know how to approach a conversation with someone regarding their mental health.
The re-elected Morrison Government committed to invest $600,000 over two years to support a trial of a mental health trusted advocate program for the fisheries sector. Up to 10 advocates will be established in eight communities across the country. Advocates will be supported with training in mental health first aid or counselling to assist them in their role. This will provide soft entry points to mental health services to reduce barriers and stigma. They will be the linkage between fishers and the wider mental health support network.
If you, or someone you know, is seeking crisis support please call:
Lifeline– 13 11 14

Beyond Blue – 1300 22 463

Kids Helpline – 1800 551 800
CEO Sleepout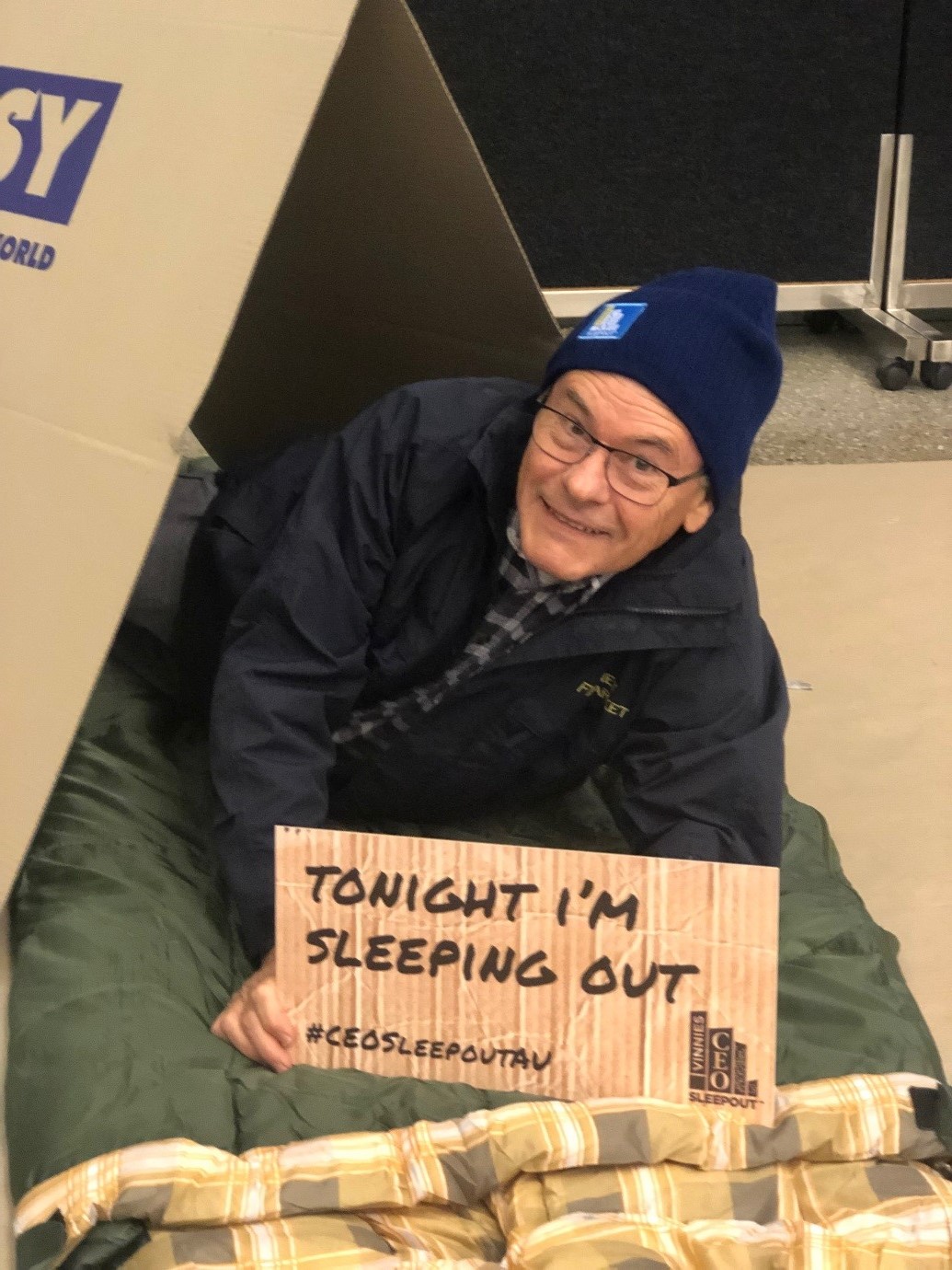 On Wednesday 20 June, Bryan Skepper joined a team from the CEO Institute of NSW for the Vinnies CEO Sleepout. The Vinnies CEO Sleepout is a one-night event over one of the longest and coldest nights of the year. Hundreds of CEOs, business owners as well as community and government leaders sleep outdoors to support the many Australians who are experiencing homelessness. Each CEO Sleepout participant commits to raising thousands of dollars to help Vinnies provide essential services to the people who need them.
On Thursday 6 June, SFM held a Buyers Breakfast BBQ which helped raise over $1900 with SFM raising the contribution to $5,000. These donations were then matched dollar for dollar by Nous Group. To date, Bryan has raised over $13,600 for the cause.
To make a donation to this very important cause, or to learn more about the charity event please click HERE.

Redevelopment Video
SFM has updated its redevelopment briefing video which seeks to communicate the benefits of the development to key stakeholders – most notably to government.
The updated video now features a flythrough of the new design including internal and external features of the building. The video also features high-profile external advocates including Margy Osmond - CEO of the Tourism & Transport Forum, John O'Mahony - Partner, Deloitte Access Economics and Michael Rose AM - Chair, Committee for Sydney who share their thoughts on why the Sydney Fish Market development is of critical importance to Sydney and the broader NSW.
The video is available to view online
HERE
.
St Lawrence Wetlands Weekend Seafoodie Fiesta Lunch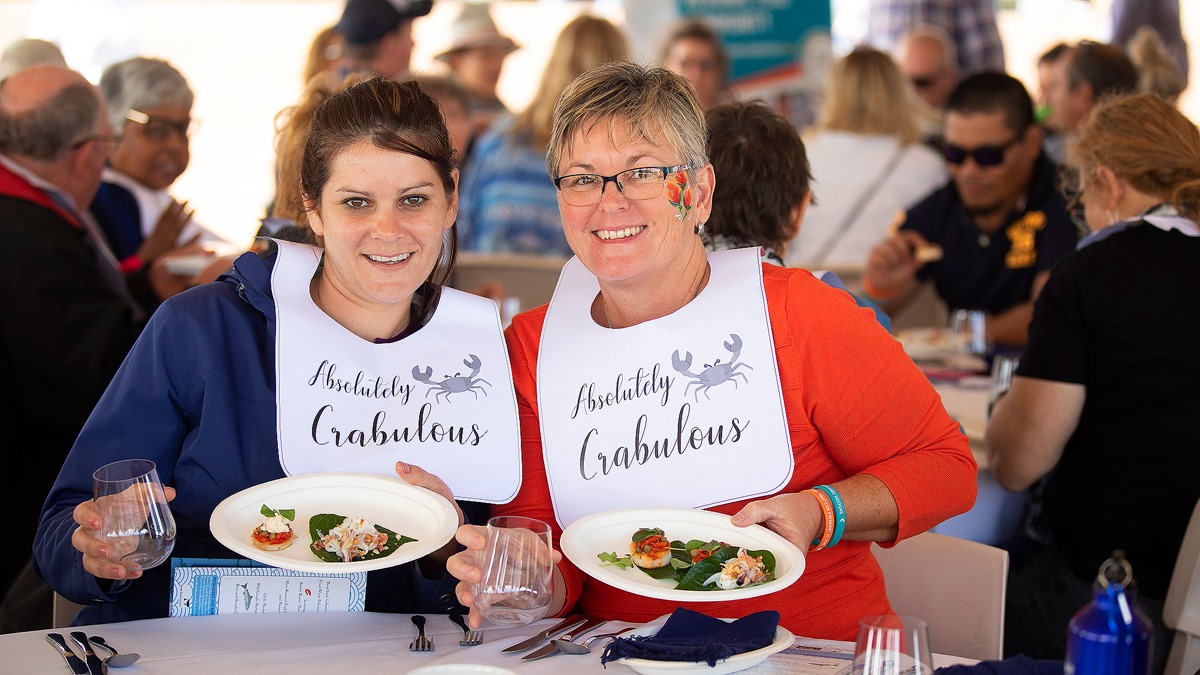 In early June, SFM proudly supported the Seafoodie Fiesta Lunch community fundraising event for the St Lawrence State School P&C as part of the Isaac Regional Council's St Lawrence Wetlands Weekend. The annual St Lawrence Wetlands Weekend is a celebration of the region's produce and recognises the significance of coastal wetlands, attended by more than 720 locals and visitors for the weekend of festivities.
With a focus on fresh seafood from the Isaac coast, Queensland celebrity chef Matt Golinski prepared a menu featuring chili mud crab, barramundi and prawns.
NSW DPI Young Farmer Business Program for Fishers

The Young Farmer Business Program is a four-year initiative of the NSW Government, delivered by the Department of Primary Industries (NSWDPI). The program provides professional development, coaching, workshops, business resources and mentoring to young farmers and fishers across NSW. It specifically aims to:
Provide knowledge and skills to improve social and business resilience, manage risk, execute effective plans and make decisions that ensure the viability of agricultural and fishing businesses across NSW

Provide access to new business ideas, tools and techniques

Support access to a range of products and services that engage with a wide diversity of skills, knowledge and experience within the primary industries business sector

Connect young farmers and fishers with opportunities that enable them to establish and /or expand their business.
The program has been expanded to include young fishers, with two key elements currently available:
1. Grants: The Young Farmer Business Program has announced grants for groups who support young farmers and fishers, locally and regionally in NSW to deliver training for their members. A grant of up to $10,000(excluding GST) is available per eligible group and examples of projects include (but are not limited to) farm tours, commercial fishing business tours,workshops, events, business skills coaching, training and guest speakers.Additional information can be found HERE.
2. Young Farmer Group Coaching: Group coaching is available to help your business grow and gain confidence to make strong business decisions. The coaching program is offering 2 x 2 day workshops at the beginning and end of the 6 month program, access to an online community support group and group coaching in between the workshops, each month for the six month program. Additional details can be found HERE.
To learn more about NSW DPI Young Farmer Business Program click HERE.
SFM Species Spotlight Videos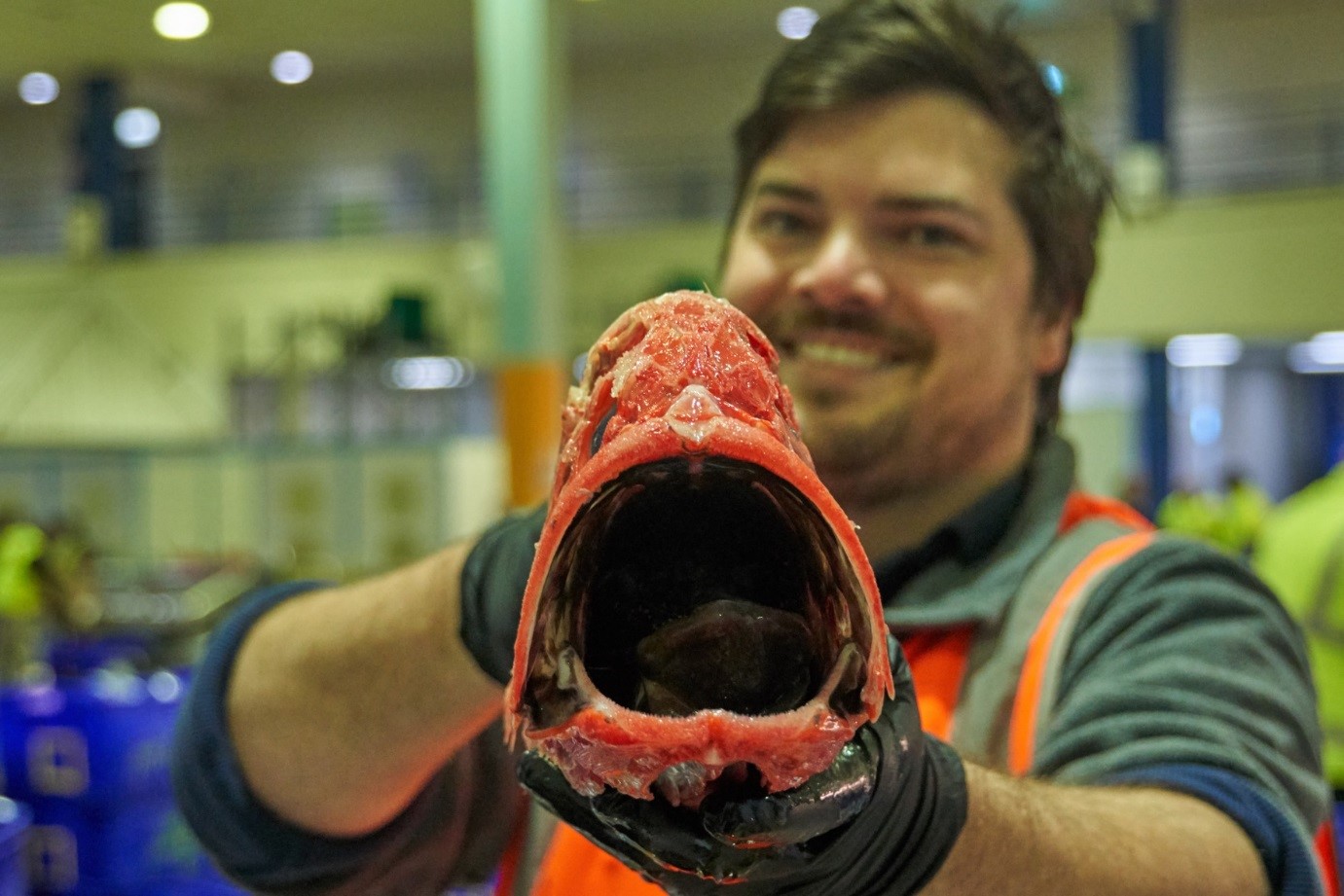 For 12 months, SFM have been producing a series of social media videos to educate consumers on how to select and prepare different types of seafood and profiling underutilised species. The videos are uploaded to SFM's Facebook and Instagram channels and have had over 124,000 combined views. The videos promoting underutilised seafood have gained the interest of several media outlets who have included the videos in stories about seafood.
Some of these stories can be viewed here:
If you have any tips or video suggestions that you'd us to share, please send to SFM's marketing department by emailing kellys@sydneyfishmarket.com.au or contacting us through our social media channels.
Supporting Seafood Future Grant
In May, SFM was awarded a Supporting Seafood Future grant from the NSW Government to assist in the development of a promotional campaign to raise the profile and drive consumption of NSW seafood.
The grant was used to contract Millstream Productions to film and produce a series of videos focusing on raising the profile of suppliers and keys species from various regions across NSW and to promote social license for fishers.
Filming for the project has now concluded and editing has commenced with the final product anticipated to be available for viewing and sharing on social media in the coming months.
Paul joined SFM as Chief Accountant in November 2018. He is enjoying the friendly work environment and working for an iconic Sydney institution. Since starting, he has learnt there is never a dull moment and no two days are ever the same. Paul's a passionate Sydney Swans fan who tries to get to all their home games and also plays golf and goes to the gym regularly. An avid reader and traveller his favourite author is Barbara Kingsolver and the travel destination he'd love to return to is New York City.
Ashlee joined SFM in April as receptionist and an administrative assistant for the Supply department. From the Central Coast, Ashlee had previously been working in real estate for 4 years. Ashlee leads an active lifestyle and loves all things outdoors whether it be running, surfing or getting away for the weekend for a camping trip. Ashlee is really enjoying her time here at SFM and is looking forward to learning all about the industry and growing with the company.